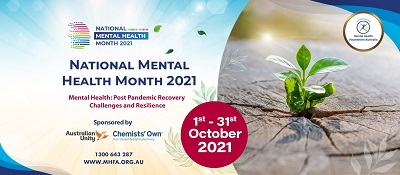 The Mental Health Foundation Australia is the oldest not-for-profit, non-government mental health organisation in Australia, serving the community since 1930. 
National Mental Health Month is an initiative of the Mental Health Foundation Australia (MHFA) to advocate for and raise awareness about mental health. It is an important time where the  communities comes together to raise awareness and promote better mental health for all. 
The National Mental Health Month 2021 Awareness Campaign theme is: 'Mental Health: Post Pandemic Recovery Challenges and Resilience'
Join the various events happening from 1 - 31 October 2021. Visit the MHFA website here and check the NATIONAL MENTAL HEALTH MONTH INTERACTIVE CALENDAR to find out more about the the events throughout Australia in October 2021. 
Registration for the events can be made via the booking platform Humanitix.  All events will be subject to COVID-19 restrictions.