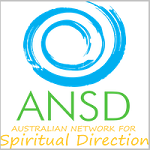 ANSD Spiritual Practice Day with Dr Sally Long: Conversations with Silence
Join the Australian Network for Spiritual Direction (ANSD), for a day of nourishing input, silence and engagement. Open to anyone interested in the spiritual journey. 

The day will offer two options for participation.
Reflective Practice Option: 
You may wish to follow the rhythm of input, followed by silent reflection and then small group discussion. This option is designed for those engaged in spiritual accompaniment or those seeking an interactive, developmental experience.
Silent Option: 
You may choose to experience the day in silence, attending the input sessions you are interested in, and spending the time in silent reflection and prayer.
RSVP by: Friday 23 October to This email address is being protected from spambots. You need JavaScript enabled to view it. 
When: Commencing 31 Oct 2020 9:30 am - 3:00 pm
Where: Australian Centre for Christianity & Culture, 15 Blackall St Barton, ACT
Event flyer: Download flyer 
More information: visit Australian Centre for Christianity & Culture events