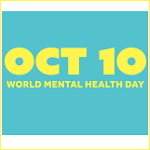 10 OCTOBER 2018
MAKE A PROMISE
See beyond the stigma and make mental health more visible by making a #MentalHealthPromise.
At home, at work, with family and friends, or in the wider community, we can all do something to help reduce stigma around mental illness and make way for more people to seek the help and support.
Visit the 1010 website to make a promise
Select a suggested promise, or write your own promise – it's up to you. If you write your own, you can upload a photo of yourself or something connected to your promise. We also have a range of images for you to choose from if you prefer.
You can make as many promises as you like, you don't have to stop at just one if you feel you have more to give!
AND
Until 31 October, it is Mental Health Month.
Mental health issues affect more than one in five Australians every year so it is important to encourage Australians to stop and think about their mental wellbeing.
This year's theme is 'Share the Journey'.
For official events, go here