World Council of Churches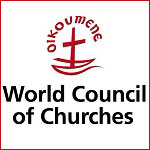 "Do you love me?" - It's a question about global warming
World Council of Churches general secretary Rev. Dr Olav Fykse Tveit, visiting New York just before the Climate Action Summit organized by the United Nations, asked this in the sermon he gave at Marble Church in New York City on 22 September.
Rev Tveit reflected, "children and young people are asking this question in a new way. 'Do you care for our future? Do you love us? Do you love me?'".
This is our testing time, Tveit concluded. "What are you doing now, not only saying, to give your children and your grandchildren a future in which they can live, love, and enjoy life together in justice and peace?" he asked. "What are we willing to give to our sons and daughters as our sign of love?"
Read the article "Do you love me?" It's a question about global warming and related news published by the World Council of Churches on 22 September 2019.