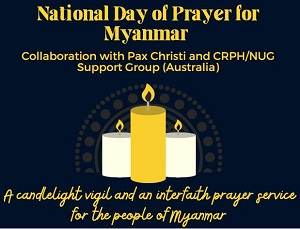 Online Prayer Service
Pax Christi and friends invite you to remember Myanmar in A Day of Prayer for Myanmar on Sunday 28 November 2021
Suffering and trauma have accompanied the people of Myanmar for decades. On February 1st military government was re-imposed.
The Prayer Day is an opportunity to pray with Myanmar in its yearning to be free. 
"We appeal to Australian people to pray for peace, and an end to violence and Myanmar's humanitarian disaster."
 National Unity Government of Myanmar
The people of Myanmar continue to suffer. 
Representatives of the Burmese community in Melbourne are helping shape and promote this Day.
Sunday 28 November - We encourage you to mark this day. 
The order of Service and worship resources are available to download below, to use with your Advent liturgy and other prayerful expressions, in your church or faith community as we begin Advent.
When: Sunday 28 November 2021 7:30 pm (AEDT)
Events  
3:00 p.m. A Candlelight Vigil and Interfaith Prayer Service for the People of Myanmar, Federation Square, Melbourne VIC
7:30 p.m. (Melbourne Time.)  ONLINE PRAYER SERVICE.- Led by Rev John Gilmore, NCCA President
Online Service link: https://us02web.zoom.us/j/81126601132  - Meeting ID: 811 2660 1132 
Other events are being held throughout the country.
Download resources: 
Candlelight Vigil -    pdf National Day of Prayer for Myanmar Flyer (101 KB)
Worship -     pdf National Day of Prayer for Myanmar Liturgy (136 KB)
Flyer -   document Pax Christi Myanmar Flyer 2 (2.58 MB)