MEETING THE FOUNDERS  OF i4giveday
 "Be kind and compassionate to one another, forgiving each other, just as in Christ God forgave you" Ephesians 4:32
Prompted by the Holy Spirit, some time ago, I wrote to Danny and Leila  Abdallah, founders of i4giveday. 
As it happens our meeting was scheduled in our week of deeper prayer for unity - the Week of Prayer for Christian Unity.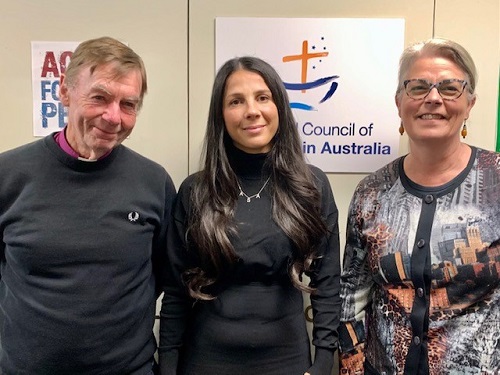 Whilst Danny was unexpectedly delayed by work, Leila, Liz Stone (NCCA General Secretary) and I had a very prayerful conversation over several hours.  
The photo right, was taken as we concluded.  
Leila described herself as previously a very shy, quiet person in public.  
Her response, in the grace of Jesus, to that tragic accident which killed three of her children and her niece, has and is transforming her into a wonderful Godly leader. 
Liz and I felt blessed to be trusted with all she shared. Both about her and Danny's layers of continuing grief but also about the way the Holy Spirit has guided their response in forgiveness.  
That response has touched and inspired many people already. Because it is a response of the heart and reflects the divine love for us all, it is bringing people together. 
As their media conveys, everyone from our political leaders to people of other faiths and of uncertain faith find inspiration in the costly example of Leila, Danny and their family. 
Leila conveyed that, from childhood, the saying of Jesus which she embraced was 'I am amongst you as one who serves.' ( Luke 22:27). 
Her servant heart, formed through the quiet years of devotion in her family and local Maronite Church, now serves our wider humanity. 
The essential forgiveness message of the Gospels is transformative when practised. 
The need for forgiveness is vivid at every level. 
Leila asks us at the NCCA to help with the spread of i4give through our national and international networks.  
A focus for now is 5 February 2022 when a profound day of spiritual and national renewal is planned. 
We can already imagine the difference it will make if everyone searches their hearts and offers forgiveness to at least one other person on that day….and, thereafter, then sustains that act of forgiveness. 
Please pray for us as we seek to follow the Holy Spirit's continuing guidance in this matter.  
Please pray for Leila, Danny and their family. They are brave souls. They have such a profound sense of responsibility for this work entrusted to them.  
As we three reflected from scripture and life, Jesus is the resurrection and the life and all time is God's time! We can trust in that so, whilst there is a sense of urgency, there is also the need to find times and places of rest and nurture.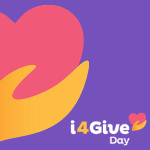 Like us all, Leila and Danny find nurture in the beauty of the Australian bush.  
Please pray for their well-being  for the journey that lies ahead. Including up to 5 February 2022. 
Bishop Philip Huggins, NCCA President