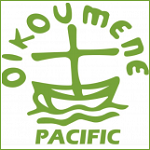 "Against The Odds: The Audacity To Believe"  
 A 'Household' Academic Writing and Arts Project by the Pacific Conference of Churches' Pacific Theological College.
Project Launch Date: 19 May 2021 
The Project
The  Pacific Conference of Churches (PCC) Secretariat would like to share details of the academic writing and arts project by their Pacific Theological College. These details are intended for sharing amongst your congregations and Christian communities. 
The project is about conceptualising the region as a God's household. It comprises three strategies: (a) academic writing; (b) arts representations; and, (c) an online platform to profile the writings and the arts, and to facilitate discussions on development issues.  
The objectives of these strategies are:
(a) a space, a platform, in which participants present their views on the present situation/realities of the household, and on what could be done to rewrite the story of development of the household, from their own perspectives and cultural and faith-based contexts, and,
(b) facilitate the exchange and discussions of their views (through academic writing, the arts, online discussion, and exchange). 
This initiative is an attempt to implement the mandates of the Pacific churches and leaders as noted above in the context of a region that is under the distressing impacts of Covid-19 (as elsewhere around the world). It is also in response to a regional analysis which says that if the Pacific region is not only to survive the Covid-19 and flourish in the future, it must do so by addressing the nexus between the need to capture indigenous and faith-based knowledge and practices, and the range of needs and interests in present day development.
The Launch
More details are downloadable below and will also be shared at the projects launch by PCC Moderator, Rev. Dr. Tevita Havea, on Wednesday 19th May, 2021 at 12pm (Fiji Time) on Zoom ( (Meeting ID: 850 933 3868).   
More details can be obtained by emailing any of the PTC/ IMR team - This email address is being protected from spambots. You need JavaScript enabled to view it. ; This email address is being protected from spambots. You need JavaScript enabled to view it. ; This email address is being protected from spambots. You need JavaScript enabled to view it. ; This email address is being protected from spambots. You need JavaScript enabled to view it. or This email address is being protected from spambots. You need JavaScript enabled to view it. 
Download "Against The Odds: The Audacity To Believe"
  pdf Household writing project concept note (final) (131 KB)     
  pdf Household writing and arts guidelines (final) (109 KB)