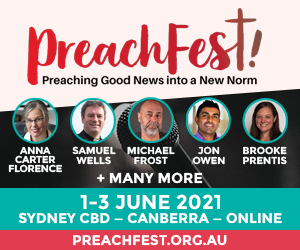 Preaching Good News into a New Norm
PreachFest is a 3-day festival created to inspire and enliven the craft, art and vocation of preaching across Australia.
Through the lens of COVID, political changes, environmental concerns, culture changes, local needs and the many other contextual realities of our time and place, explore some important questions: 
What is the point of preaching?
Is the art of preaching dead?
Can preaching change anything?
Preachfest! will give you the opportunity to hear other gifted preachers and teachers, to network and share resources.  For preachers, the opportunity to be encouraged and inspired is invaluable. This event will provide a great opportunity for you to refine your art of preaching, fine-tune your ability to proclaim God's Good News in your context, and, be inspired and challenged by the array of teachers, leaders, and preachers, in person (Sydney and Canberra) and online (Virtual Attendance - via web and app access) and other interactive regional hubs. 
When: 1-3 June 2021
Where: Sydney CBD, Canberra, Regional Hubs and Online
Cost: $129 Full price, $50 Virtual Access, $50 Day Rate
Register: All online registration options at  PREACHFEST.ORG.AU  or register using the links below. 
Please visit  PREACHFEST.ORG.AU   for information on:
Preachers and Teachers
Event Schedule
Dates and times
Venues  Sydney CBD and Canberra
Download the   pdf Preachfest Flyer (7.60 MB)  to share amongst your networks.
More Information
If you would like more information, please contact: Preachfest Admin team  This email address is being protected from spambots. You need JavaScript enabled to view it. , 02 8838 8946  
Preachfest! is being hosted by Uniting Mission and Education in partnership with St Mark's National Theological Centre