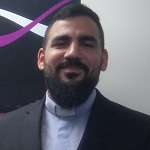 Staff of the NCCA and the NSW Ecumenical Council were delighted to receive Rev Hrant Tahanian of the Armenian Church Catholicosate of Cilicia Antelias Lebanon on the afternoon of Friday 17 May 2019.
Rev Tahanian brought greetings from his church and the afternoon was spent in ecumenical sharing. The cultural gathering included sharing from local, national and international perspectives and focused on the particular challenges across the churches.
Rev Tahanian grew up in Canada. There was discussion about Armenian diaspora communities and the successful integration of cultural and faith.
Above: L-R, V Rev Fr Dr Shenouda Mansour (NSWEC), Ms Liz Stone (NCCA), Rev Tahanian and Ms Emily Evans (NCCA)