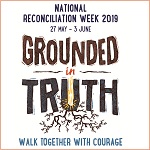 27 May – 3 June 2019
Grounded in Truth, Walk Together with Courage
At the heart of reconciliation is the relationship between the broader Australian community and Aboriginal and Torres Strait Islander peoples. To foster positive race relations, our relationship must be grounded in a foundation of truth.
Resources and events are now available on the national Reconciliation Australia website
Download the Reconciliation Guide for Places of Worship
Ecumenical event in South Australia
When:Saturday 1 June 2019,
What: A day-trip starting in Murray Bridge at Long Island Reserve, 10:30am-3pm.
Ngopun Ruwangk (Walking on Country) is an event during to see landscapes and water-ways through the eyes of a Ngarrindjeri Tour Guide (Sean Weetra), to learn more about Ngarrindjeri spirituality, art, the landscape and culture and maybe have the opportunity to do some weaving, deep listening and learning from Sean's stories.
Cost: $80.00 per person
More information and bookings online via Trybooking https://www.trybooking.com/book/event?eid=504944&
Further reading on Reconciliation Action Plans
What is a RAP? The Reconciliation Action Plan (RAP) program provides a framework for organisations to support the national reconciliation movement. Visit https://www.reconciliation.org.au/reconciliation-action-plans/
At their General Convention of Synod in October 2018, The Lutheran Church of Australia (an NCCA member church) committed to developing a Reconciliation Action Plan.
Why do we need a Plan for reconciliation?
An article by Shona Reid. In this article, Ms Reid, an Eastern Aranda women, offers her views on why having an RPA is a significant step towards living in unity as reconciled children of God.
Ms Reid says having an RAP shows that the Church cares "enough about First Nations people to want to be a part of our lives and cares enough about us to want to share God's love"
Read the article from May issue of 'The Lutheran' https://www.thelutheran.com.au/why-do-we-need-a-plan-for-reconciliation/
Learning to Reconcile
An article by Cain McDonald, Principal of Tatachilla Lutheran College, McLaren Vale South Australia.
Mr McDonald says "It has been empowering for our community to understand that reconciliation is a ministry that we are called into creating and living with our Indigenous brothers and sisters."
Read the article by Cain McDonald from the May issue of 'The Lutheran' https://www.thelutheran.com.au/learning-to-reconcile/