World Council of Churches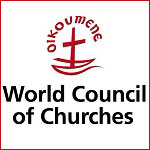 Pastoral Letter from World Council of Churches (WCC) General Secretary and WCC Moderator.
WCC member churches and ecumenical partners are urged to do "whatever we can do to protect life".... say Rev. Dr Olav Fykse Tveit and WCC moderator Dr Agnes Abuom.
They conclude:
"This is the call to the one ecumenical movement of love. Because our hope is given to us from the God of life, it is powerful and keeps us united in love and service." ...
"We are in this together."
Read the full Pastoral letter 18 March 2020 here