World Council of Churches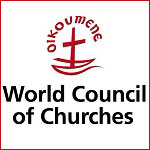 31 Days of Prayer for Women's Empowerment

Join the Lott Carey Global Women's Prayer Guide
The World Council of Churches (WCC) encourages its fellowship and partners to join the Lott Carey "31 Days of Prayer for Women's Empowerment," which is also the 6th Anniversary Global Women's Prayer Guide.
To access the prayer guide click on the WCC website page and scroll to the bottom.
International AIDS Conference in Amsterdam, July 2018
Applications are invited from interfaith chaplains and young counsellors
The World Council of Churches - Ecumenical Advocacy Alliance (WCC-EAA) is inviting applications for people to participate at the 22nd International AIDS Conference in Amsterdam, July 2018.
An Interfaith Pre-Conference is planned for 21-22 July.
Since the 15th International AIDS Conference in Bangkok, Thailand (AIDS 2004), the WCC-EAA has led the facilitation of an Interfaith Chaplains Programme.



Applications are now being accepted up to 22 March 2018.
If you are interested, or would like more information, please visit the Faith at AIDS webpage, scroll to the bottom to download the application form (MS Word).
Applications are to be submitted to WCC-EAA HIV Campaign Coordinator Francesca Merico: This email address is being protected from spambots. You need JavaScript enabled to view it.
For more information about faith-based engagement at AIDS 2018, stay tuned to information posted at Faith at AIDS 2018


The Live the Promise Campaign of the Ecumenical Advocacy Alliance seeks continued priority on the response to HIV and AIDS, the elimination of stigma, and a significant faith-based contribution to the vision of 'getting to zero' – zero new infections, zero discrimination, and zero AIDS-related deaths.