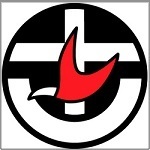 Walking alongside those who seek safety 
We share a story from The Uniting Church Assembly about the Indooroopilly Uniting Church in Brisbane and its outreach work with refugees and asylum seekers, an initiative which the congregation began in 2015. 
In the article, Malcolm Dunning, the Co-ordinator of Indooroopilly Uniting Church (IUC) Seeker Support Hub Refugee and Asylum in Brisbane, says that the centre is a Christian response to "walk alongside" some of the community's most vulnerable people.... "this is what Christian community is supposed to be about." 
....Twice a week the IUC Refugee and Asylum Seeker Support Hub opens its doors. A team of volunteers are on hand to provide holistic support to refugees and asylum seekers from across southeast Queensland. The main focus is to provide administrative assistance for people to complete the legal paper work involved in their protection visa application process – an initial 40-page document which must only be completed in English, and many subsequent forms and applications. 
The centre has also become a hub for other support services including acting as a Foodbank distribution point, hosting other agencies providing mental health support and legal advice as well as emergency financial relief, and helping refugees make connections with other agencies. 
Six years on from when it began in May 2015, the IUC Support Hub continues to meet a critical need.
The project began not long after the Australian Government introduced new punitive measures which applied to a group of around 30,000 people, referred to by the Government as the "legacy caseload", who arrived in Australia by boat. The Government removed permanent refugee visa opportunities for this group and instead introduced a range of temporary visas requiring three or five year re-assessment of their protection claims. 
Malcolm says the mental impact of this uncertainty for refugees living in the community is incredibly significant. 
"A lot of people we see are single males, and the vast proportion came to Australia by boat. Often the men were sent by families, with the expectation, rightly or wrongly, that they would be able to have families join them." 
"Many came here thinking of Australia as a country with a strong humanitarian soul and a country that would take in refugees and assist them." 
"Sadly, that has not been the case. Instead we are seeing the erosion of Christian and Australian values, exemplified by the implementation of cruel policies including indefinite detention, the breaking of our commitments to international conventions, the naming of asylum seekers who have done nothing wrong as "illegals", and the detention of innocent people for more than seven years, in many cases, where their mental health has been destroyed." 
Please visit the website of the Uniting Church in Australia Assembly to read the full article, Indooroopilly Uniting Church: Walking alongside those who seek safety -  It is a wonderful story of faith and hope in action.