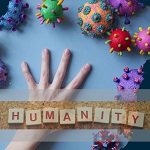 Aware of the suffering caused by the COVID19 virus, Australia's faith communities pledged compassion as the unifying ethic at the heart of their diverse faiths. Multifaith Leaders in Australia made a Joint Statement in response to the Australian Government's Covid-19 initiatives, as an example of a multifaith stance in which compassionate, humble service becomes a national practice and which inspires and gives hope to others.
Bishop Philip Huggins was subsequently invited by Charter for Compassion to speak in a webinar held on Thursday 18 June 2020. The topic of the webinar was Hearts of Compassion: Australian Faith Communities Respond to COVID-19.  The webinar marked the first in a (Northern) Summer Series of Webinars by the Religion, Spirituality and Interfaith (RSI) Sector at the Charter for Compassion. The aim of these webinars is to uplift people with a positive message in compassionate global community during the continuing quarantine.  
In the webinar Hearts of Compassion: Australian Faith Communities Respond to COVID19  Bishop Philip Huggins was interviewed by Terry Ayling from the Australian Compassion Council and member of the Religion, Spirituality and Interfaith Sector at the Charter for Compassion. Bishop Philip's reflection follows.
TOWARDS A BETTER NEW "NORMAL"?  
Some reflections and suggestions based on the Charter for Compassion 
INTRODUCTION.
What will it be? Will we go forward to a better new "normal" of a more compassionate society or just go back to the negative aspects of old ways? We could go in either direction, these days ahead.
That much is clear as we observe both that which lifts our spirits and that which breaks our hearts.
Unexpectedly, global and local responses to the death of George Floyd have been a tragic case-study in just how volatile is our current circumstance.
Compassionate leadership is now crucial so people can have more hope. Compassion is at the heart of all major faiths and is our unifying ethic.
We need to unite even more and thus encourage a groundswell of support for a more compassionate society.
As people aware of our spiritual being, in the love of God, our unity in our common humanity is already given.
We need a program that helps us, in our material existence on this planet, be who we already are!
As it happens, I write with the Daily Bible reading in front of me. Jesus is saying to us: "Love your enemies and pray for those who persecute you ,so that you may be children of your Father in heaven". Jesus reminds us that our Creator continues to make the sun to rise while we are left free to make our choices in the gift of life. Jesus encourages us to be perfectly loving so there can be joy in heaven and everywhere upon the earth (Matthew 5:43-48).
That is the beautiful and divine plan for all human kind.
Now, having been united by our common concern over COVID-19, we can see the possibilities for a real lift in how we live together.
But we need a unifying program.
I think the Charter of Compassion gives us such a program which we can now apply together in a unifying and coherent manner.
Let me elaborate with a few reflections, based on a reconsideration of Karen Armstrong's Twelve Steps to a Compassionate Life (Random House, Great Britain 2011). There is more detail at https://charterforcompassion.org/ 
1.  A more compassionate society requires us to practice and apply key wisdoms from our faith traditions. We know how our thoughts become our words and actions.
We know the pattern, over time, shapes our character. Our spiritual practices help us wake up to the pattern of our thinking and what it may lead to. Our spiritual practices awaken discernment as to what we let ourselves think about and what we let influence our thinking. If we all examine our thinking according to the "Golden Rule", life will be better for everyone. That is, say nothing and do nothing that will cause others a pain we would not want ourselves...under no circumstances.
Obviously, some of the activities that have caused such sadness in recent days would not have happened if this simple but fundamental teaching had been applied. No one wants to be suffocated to death; their pleas for relief ignored. Every day we see the negative consequences of intentions that do not reflect the Golden Rule. The consequences are so much unnecessary suffering. Our spiritual practices, including our ways of praying and meditating, are crucial to cultivating a better and more compassionate society. My practice is the Prayer of the Heart - "Jesus have mercy". 
A SUGGESTION?
THAT, IN OUR MULTIFAITH FORUMS, WE SHARE WHAT WE HAVE LEARNED; HELP MORE PEOPLE REALISE THAT WE DO AND WILL BECOME WHAT WE THINK; ENCOURAGE PEOPLE TO FIND A SPIRITUAL PRACTICE THAT WILL HELP THEIR THINKING BECOME TRUER, KINDER AND MORE BEAUTIFUL.
2.  From our family and nation, we absorb various ideas and attitudes. Attitudes we may once have thought normal come to be seen differently.
Listening to others, we learn better ways. I grew up amidst non-inclusive language and did not even notice! Our state primary school classes included aboriginal kids. We never asked why they seemed so sad. We never asked or were told where they came from. Years later we learned they were part of the generation "stolen", taken from their families, separated tragically from their parents, siblings and country.
A SUGGESTION?
AGAIN, IN OUR VARIOUS FORUMS IT IS HEALTHY TO SHARE WHAT WE HAVE LEARNED, WHILST BEING TENDER WITH OURSELVES AND EACH OTHER.
WE ARE ONE HUMAN FAMILY ON A BEAUTIFUL PLANET TOGETHER. WE CAN CLOSE THE GAP BETWEEN THE UNIVERSAL DECLARATION ON HUMAN RIGHTS AND CURRENT ACTIVITIES. ANY ATTITUDE THAT CREATES AN "US" VERSUS "THEM" IS UNHELPFUL TO A MORE COMPASSIONATE NORMAL. OUR DISCUSSIONS NEED AN HONEST APPRAISAL OF HOW THERE CAME TO BE A "THEM" IN OUR HEARTS. WHEN WE REALLY KNOW THERE IS JUST "US" WE WILL BE SO MUCH MORE AT PEACE. AS THE SAYING GOES: "I AM THROUGH YOU, SO I!"
3.  Through such exercises, we also learn we are happier when we are kind, generous and thoughtful.
We know the unhappiness it causes, but we also see the unhappiness in people who use their power to divide rather than unite. We need leaders who want to unite and who want to minimise unnecessary suffering. Our world cannot keep giving power to people who seem to have no capacity or intent to unify us with compassionate leadership. Succession-management has to have this focus, if there is to be a better normal.
We know the unhappiness it causes, but we also see the unhappiness in people who use their power to divide rather than unite. We need leaders who want to unite and who want to minimise unnecessary suffering. Our world cannot keep giving power to people who seem to have no capacity or intent to unify us with compassionate leadership. Succession-management has to have this focus, if there is to be a better normal.
A SUGGESTION?
WE NEED TO ENCOURAGE AND PROMOTE LEADERS, IN EVERY SECTOR, WHO PREFERENCE COMPASSIONATE UNITY AND WHO EMBODY THIS IN THEIR BIOGRAPHY, PRACTICE AND POLICY.
4.  Karen Armstrong tells the story of an elder who's apparently small act of kindness had a hugely beneficial effect on her at the time and for years thereafter.
That act of kindness was a word of encouragement when she felt vulnerable. Looking back, she can see how she was then, as she says, a "confused, immature and rather tiresome young woman".
This leader, near death herself and not expected to do anything more, nevertheless took a special initiative to give Karen encouragement.  It gave her so much comfort, countering a bewildering level of self-doubt. This story resonates with our own experience. In our early years ,not too sure who we are or what we can do , an adult who is encouraging and selflessly concerned for us , can be such a blessing. Not knowing the inner world of another person and their particular vulnerabilities, it is wise to always be kind whenever it seems possible and even if it is difficult or inconvenient. We just cannot know how beneficial such a kindness might be!
A SUGGESTION?
OVER THE YEARS THERE HAVE BEEN WONDERFUL MODELS OF MULTIFAITH TEAMS WHO MENTOR EMERGING YOUNG LEADERS FROM MORE MARGINALISED BACKGROUNDS.
IN OUR CURRENT CIRCUMSTANCES, THE LEARNINGS FROM BEST PRACTICE NEED TO BE UNIVERSALISED. OUR GOAL IS A TIME WHEN NONE OF OUR YOUNG FEEL AND ARE MARGINALISED BY FACTORS OUTSIDE THEIR CONTROL.
5.   St. Iraneus wisdom has influenced me. He once reflected, "God will always have more to teach us and we will always have more to learn." Life is wonderfully mysterious.
Poised between the great events of birth and death, the more we learn, the more wonderful is the gift of life! Humble gratitude takes us into the company of folk like Socrates who was aware of how little he really knew. Socrates acquired 'wonder' from his examined life and thus could say "the un-examined life is not worth living!"
Returning to our worship now in Church, but still socially distancing, at the greeting of peace we have adopted the tradition of Hindu and Buddhist friends: we greet one another by bowing with joined hands to acknowledge how we all carry the divine image and likeness. There is sacred mystery when we meet. We greet each other in peace with a smile as we, in our context, prepare thus for the sacrament of Holy Communion. Peace is a divine gift and it is our crucial task to be peace-makers. We are on a faith-journey together. The more receptive we are to what we can learn from one another, the better we will all be.
A SUGGESTION?
CREATING A MORE COMPASSIONATE WORLD MEANS A RECEPTIVITY TO WHAT WE CAN LEARN FROM OTHERS, AS WE PRACTICE OUR FAITH.
IT MEANS TAKING INITIATIVES TO MEET WITH PEOPLE AND GROUPS WHOM WE KNOW WE DON'T KNOW. CAN WE GET BEYOND CONVERSATIONS BASED ONLY ON IDEOLOGY AND PROPAGANDA TO A BETTER UNDERSTANDING, TAKING WHAT TIME IT TAKES? GENUINE DIALOGUE IS THE BEST WAY TO IMPROVE NATIONAL AND INTERNATIONAL RELATIONS. CAN WE ENCOURAGE THIS, FOR EXAMPLE, WITH FOLK WITH A CHINESE BACKGROUND AS THEY TRY TO NAVIGATE THEIR WAY, AMIDST MUCH DISCORDANT RHETORIC? TOGETHER, CAN WE HELP UPCOMING UNITED NATIONS EVENTS TO SUCCEED?
HERE ARE 3 CRUCIAL OPPORTUNITIES FOR OUR ADVOCACY:
∗ WITH 38 NATIONS HAVING ALREADY RATIFIED, CAN WE PURSUE THE REMAINING 12 RATIFICATIONS WHICH ARE NEEDED FOR THE TREATY ON THE PROHIBITION OF NUCLEAR WEAPONS TO THEN ENTER INTO PERMANENT LEGAL FORCE, ENTRENCHING THUS THE ILLEGALITY AND UNACCEPTABILITY OF NUCLEAR WEAPONS. AUSTRALIA HAS A PARTICULAR INFLUENCING OPPORTUNITY AND RESPONSIBILITY, GIVEN OUR ALLIANCE WITH THE U.S.A. 
∗ THE DEFERRED UN CONFERENCE ON CLIMATE CHANGE (UNFCCC COP26) HAS TO SUCCEED. EACH NATION HAS TO COME UP WITH ITS BEST CONTRIBUTION- IT'S NATIONALLY DETERMINED CONTRIBUTION'- THIS YEAR SO THAT THE CONFERENCE OF PARTIES IN GLASGOW, NOVEMBER 2021, CAN IMPLEMENT THE PARIS AGREEMENT AND THUS CONTAIN THE RISE IN GLOBAL TEMPERATURES. 
∗ LIKEWISE AS REGARDS THE UN CONFERENCE TO PROTECT BIODIVERSITY, DEFERRED ALSO UNTIL NEXT YEAR. AS COMPASSIONATE BEINGS WE KNOW OUR INTERDEPENDENCE WITH OTHER SPECIES. TOGETHER WE ARE ADVOCATES TO PREVENT THE LOSS OF MORE SPECIES.
6.  A better, compassionate new "normal" requires more respect for the power of our words to harm or to heal.
At the most basic level, as a species we do not function instinctively. We depend on the shared symbols of language to co-ordinate our interactions and to keep us safe.
A case study has been the recent consistent messages we have received on such practices as washing our hands and social distancing. The goal has been to help us all prevent the spread of COVID-19. Seeing people apply these messages in daily life has been ennobling. We have seen our common desire to look after each other and to minimise the risks facing vulnerable groups, including our courageous and sacrificial health and community workers.
More subtly but very powerfully, we know how our tone of voice and the content of our words influence other people's well-being.
To end where we began, it may be hard initially to express love for 'enemies' but we can contain the alienation by not adding words of hostility.
A fine former Australian Governor-General, the Honourable Dame Quentin Bryce once reflected: "In my career and throughout my life, I have seen the power of language that connects and propels the grace of words that heal." 
A more compassionate world needs "the grace of words that heal." Herein is a critique of much in the old "normal" that is no longer helpful. The tone of public discourse sets standards and influences the mental health of many.
A SUGGESTION?
IN THIS PERIOD, AMIDST A PANDEMIC, THERE IS MUCH ANXIETY ABOUT THE FUTURE... 
IT IS SO IMPORTANT TO HAVE CLEAR COMMUNICATION FOCUSED ON THE COMMON GOOD. WE CAN MODEL THIS AND ENCOURAGE IT WHERE COMMUNICATIONS SEEM TO OBFUSCATE AND CONFUSE. WHERE WE CAN CONTRIBUTE, LET US CHOOSE TO OFFER THE GRACE OF WORDS THAT HEAL. YES, AND IN A TONE OF VOICE THAT IS UNIFYING.
CONCLUSION:
These are a few Reflections and related Suggestions towards a better new "normal", drawn from re -appreciating the Charter for Compassion. It used to be said that the Church of the future needed to be mystical or it wouldn't be much at all. It can also now be said that our society and world needs to become more compassionate or it won't be much either!
My faith is that, in accord with our being made in the divine likeness and always being in the divine love, we can now lift to a quite unprecedented and sustained quality of unity as one human family. 
The possibility is before us. We can all make a contribution.
Bishop Philip Huggins, President, NCCA.