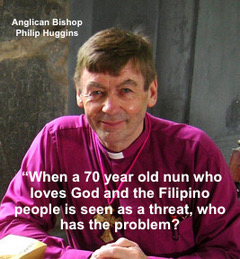 "When a 70 year old nun who loves God and the Filipino people is seen as a threat , who has the problem?
Un-expectantly, Sr Pat's faithful witness and our global solidarity, is an opportunity for current Filipino leaders to wake up to their own deepest truth and become leaders who are a real blessing.
We urge that they listen to their own hearts and look again into the faces of those who love Sr Pat, disciple in the Holy Spirit of Jesus.
We pray the Philippine's leaders might take this opportunity, as we seek to live ourselves with pure hearts, free of enmity and bitterness".
Bishop Philip Huggins
President of the National Council of Churches of Australia.