17 June – 23 June 2018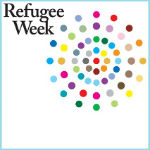 #WithRefugees
Today, more than ever, we need a global movement to demand that the safety and rights of refugees are protected.
In Australia, it is the responsibility of our Government, and each one of us to ensure people forced to flee from their homes can live with dignity and with hope.
Visit the Refugee Council of Australia's website to find out more about:
Refugee Week Events
News
Resources
Refugee Film Festival
This is an annual activity to raise awareness about the issues affecting refugees, celebrating the positive contributions made by refugees to Australian society.