18 June – 24 June 2017
With courage let us all combine.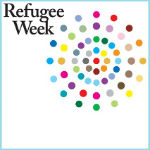 Refugee Week coincides with World Refugee Day on 20 June.
Refugee Week calls us to unity and positive action, encouraging Australians to improve our nation's welcome for refugees and to acknowledge the skills and energy refugees bring to their new home.
This is an annual activity to raise awareness about the issues affecting refugees, celebrating the positive contributions made by refugees to Australian society.
For resources, to find out what is on or register your event go the the Refugee Week website.