Date: 23 June
Time: 7:00 pm - 9:30 pm
Venue: St Stephens Uniting Church, 197 Macquarie Street, Sydney
Award-winning Syrian composer/pianist Malek Jandali in Sydney for Refugee Week.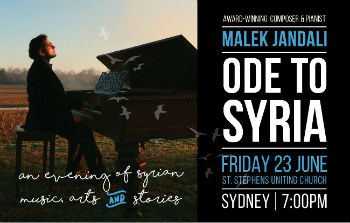 The Sydney Peace Foundation is hosting an event called 'Ode to Syria', celebrating Syrian music and stories and looking at the power of music and arts to heal trauma.
Inspired by his homeland, the Syrian people, and their quest for freedom and human rights, Malek Jandali's music gives a voice to the resilience and hope of his people.
Malek's concerts have captivated audiences around the world, and on this special night during his first-ever visit to Australia Malek Jandali will lay bare the personal side to his music, reflecting on the inspiration and emotion behind his works.

The program will feature original works by Malek, which integrate ancient melodies from Aleppo and the Silk Road into compositions that celebrate Syria's rich musical heritage.
Tickets available online
For more information visit the Sydney Peace Foundation website or contact Pamela Katsantonis by email at This email address is being protected from spambots. You need JavaScript enabled to view it.