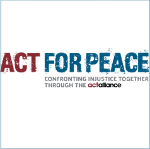 Life in the Gaza strip for one young girl
It's May last year and Israeli airstrikes are descending over the Gaza strip.
Below, millions of innocent civilians wait for the oncoming devastation, terrified in their homes.
  
 
Richard Wainwright / Act for Peace
In one of the homes caught up in the bombing lives a young girl with her family.
They manage to make an escape during the night before their home is destroyed.
And everyone is safe - except her uncle, who stays behind.
For a long time, this young girl can't believe what happened is real. Struck by grief, she stays in denial, traumatised by what she's seen.
But thankfully, with your support and the incredible work of our partner in Gaza, this isn't the end of her story.  
Click here to see what happens next.
---
WCC to President Biden: "listen and respond to the voices of the churches of the Holy Land"
In an 8 July letter sent to President Joe Biden, World Council of Churches acting general secretary Rev. Prof. Dr Ioan Sauca appealed for Biden's attention to the plight of churches and Christians of the Holy Land.
Read more on the World Council of Churches' letter to President Biden
Read the Cath News article WCC urges Biden to listen to churches in the holy land