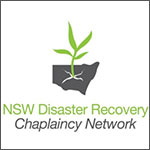 NSW  Basic courses
NSW Disaster Recovery Chaplaincy Network (DRCN) have announced two new courses for 2022
Online Basic Training Course: 4 and 5 August from 9:00 am to 4:30 pm
Face to Face course: 23 and 24 August in Ulladulla, NSW 
Other courses will be advised later in the year.
Download:
pdf Ad DRCN Chaplaincy Training 2022b (277 KB)
document 4 DRCN Application form 2022b (93 KB)  
document 5 Nomination Support of Application (553 KB)
Who can apply?
DRCN chaplains are ministry agents from a range of faith organisations, detailed below, who are ordained or equivalent, or are employed in institutional chaplaincy (e.g. Hospital, Prison, Aged Care) and who have the support of their denominational or faith body for involvement.
Traits sought in a Disaster Recovery Chaplain
Spiritual and personal formation and maturity 
Good levels of accountability
Being fully present for others
Team worker
Compassion
Empathy
Capability 
Common Sense
Non judgemental
Flexible and adaptable  
Please take a few moments to look at this material and send it on to your networks of clergy and chaplains. 
Can you think of particular ministry agents who would work well in situations of crisis? Please nominate them for this training and involvement in the DRCN.
Further questions can be directed to Rev. Dr. Stephen Robinson, Coordinator, NSW Disaster Recovery Chaplaincy Network 
Email: This email address is being protected from spambots. You need JavaScript enabled to view it.