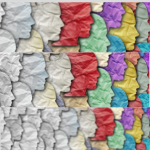 Faith in the Media
Data from the 2021 Census, when a great proportion of Australians were in lockdown, reveals a new face of the Australian population.
More Australians are "unlikely to worship a god and more likely to come from immigrant families."
Almost 40 per cent of Australians say they have no religious beliefs
Less than half of Australians identified as Christian (declared by 43.9 per cent of the population).
Christianity remains the nation's most common religion 
Read: ABC News Census 2021 data shows Australians are less religious and more culturally diverse than ever By Markus Mannheim. Posted Tue 28 Jun 2022.