Australian Community Sponsorship
At the Australian Churches Refugee Taskforce, we have been involved in discussions regarding the involvement of NCCA Member Churches in supporting refugee resettlement in Australia. 
A new community-led framework has been set up under the auspices of Community Refugee Sponsorship Australia (CRSA) (previously known as the Community Refugee Sponsorship Initiative). There will be an intake of new mentor groups and refugee mentees in August 2021 under the 'Group Mentorship Program'. 
Would you or your church's members like to be involved in this ground-breaking opportunity?  
CRSA piloted a basic version of this program in 2020 by directly mobilising and activating volunteer 'mentor groups' around the country as a way of testing, developing and demonstrating key aspects of a future community sponsorship program for refugees. An independent evaluation of the program is in process but anecdotal reports suggest that the program was successful in its main objectives.
There are some wonderful stories from program participants about the meaningful new connections that have been made and significant settlement goals achieved by refugee participants.  You can view an excellent short 5 minute film here to get a sense of what this program looks like on the ground - please do share this with your church leaders and members.  The film features a number of the mentor groups and mentees across the country, with some of the footage being the work of one of the talented mentees, Kyisoe Han. 
This year the program is being enhanced by developing a special role for 6 large community organisations who can promote or support grass-roots, community-led work with refugee newcomers. This could be an ideal role for a member church that is prepared to work with multiple church congregations in this vital area of supporting resettlement.
Download:  pdf GMP#2 Overview for potential SCOs (Final) 16 07 21 (1.14 MB)
CRSA is keen to hear from Australian community organisations across the country who may be interested in:
Promoting the next Group Mentor Program to their members/volunteers and mobilising their members/volunteers to be involved 
Helping interested individuals form local 'mentor groups' (comprising five or more individual volunteers), obtain police and working with children checks and making applications to be involved in the program
Providing groups with basic insurance coverage, setting appropriate standards of conduct, and support with fundraising
Where you have capacity, offering ad hoc support/advice to mentor groups as they embark upon their mentoring journey
Engaging in the evaluation of the program
CRSA will be hosting an online information session for interested organisations on 12 August 2021 where you can join to find out more. CRSA are also hosting public information sessions for individuals interested in getting involved. Register here to attend one of these sessions. If interested parties are unable to make the 12 August information session, CRSA may be able to make other arrangements or provide you with a recording.
CRSA is keen to engage with community organisations and groups of volunteers all over the country, and particularly seeks the involvement of groups in states that were not represented in the pilot program (such as South Australia, Western Australia and Northern Territory). 
CRSA is also inviting organisations that work closely with refugees in Australia to make contact to discuss how your organisation might refer refugee clients into this program. To be eligible, individuals must be in Australia (or due to arrive in 2021) and hold a permanent or temporary protection visa. CRSA will prioritise individuals who have arrived in Australia in 2019, 2020 or 2021 or who are in the process of establishing themselves in a new part of Australia (ie secondary migration).
Download:   pdf GMP#2 Overview for potential SCOs (Final) 16 07 21 (1.14 MB)   for additional information, which will provide a more detailed description of this next round.  
Timeline for Group Mentorship Program in 2021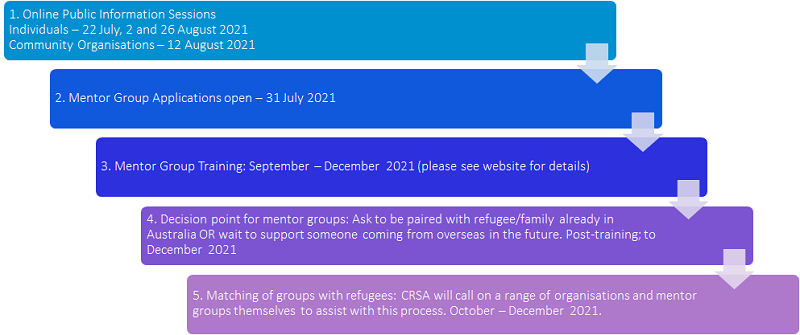 Help spread the word
FLYER: Please see pdf GMP2 A4 Flyer (final) 16 07 21 (6.35 MB)  you to use in any supporter updates that you may be sending out in the near future.
SOCIALS: CRSA will be sharing various updates on social media (Twitter and Facebook), please keep an eye out for these to re-tweet / share!  Use the media assists -   image CRSA Tiles GMP2 Final 16 07 21 (228 KB)
If your organisation is happy to post about this program directly, we encourage you to use theses graphics and optional captions to promote the Group Mentorship Program across your social media channels. Otherwise, we hope you will be able to like / share / re-tweet CRSA posts so we can reach a greater number of people. 
Facebook suggestion:
We are excited about the Community Refugee Sponsorship Australia [@CRSAaus] Group Mentorship Program providing a new way for local communities to support refugees. The program trains local volunteer groups to welcome and provide hands-on settlement support to newly arrived refugees, and then matches them with a refugee household living locally. CRSA is currently looking for interested individuals/groups to take part in the next round of the program and join this growing movement in Australia. We encourage you to find out more and register for an upcoming public information session by scanning the QR code in the image below or visit CRSA's website directly at www.refugeesponsorship.org.au   
Information on the New Program Intake – Public Information Sessions can be found here.
The new CRSA website also has a short video of the pilot Group Mentorship Program.  
Read more: NCCA ACRT webpage - https://www.ncca.org.au/campaigns/item/2149/community-sponsorship-to-australia