Deadline for applications Monday 10 July.
The Christian Conference of Asia (CCA) is holding this year's Asia Mission Conference (AMC) in Yangon,

Myanmar from 11 to 17 October 2017. Applications are invited from young Christians belonging to it's member churches and ecumenical councils in Asia to serve as stewards for this conference.
Applicants must be between the ages of 18 and 30 years old and the deadline for receiving applications is 10 July 2017.
The stewards program will last for 10 days, including three days of ecumenical formation training and pre-AMC orientation. Stewards are expected to be available from 8 October through to 17 October 2017.
Visit the CCA website page for more information.
Download the PDF version of the Application Form of the Stewards Programme.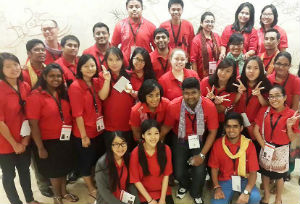 Stewards of the 14th General Assembly of the CCA in Jakarta, Indonesia — May 2015.