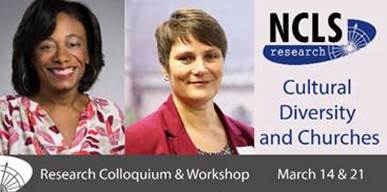 Research Colloquium and Workshop
National Church Life Survey (NCLS) and the Australian Catholic University have joined together to present the following two events:
Wednesday 14 March 2018: Research colloquium for academics
Venue: Australian Catholic University, North Sydney campus
Designed for: academics and researchers to share research findings, with opportunities for networking and planning future collaboration.
Wednesday 21 March 2018: Workshop for church leaders
Venue: Australian Catholic University, Strathfield campus
Designed for: people in church leadership or other practitioners to hear research insights and discuss implications for ministry in culturally diverse churches or communities
NCLS Research and Australian Catholic University are hosting a visiting scholar, Dr Korie Edwards in March 2018, in Sydney. Dr Edwards' scholarly agenda is driven by her passion about and commitment to matters of racial justice and diversity in the church. She heads a national study of multiracial church pastors in the USA called The Religious Leadership and Diversity Project (www.rldp.net). She is also current President of the Society for the Scientific Study of Religion. Dr Edwards' visit is co-hosted by ACU's Institute of Religion and Critical Inquiry.
Dr Ruth Powell, Director of NCLS Research and Associate Professor ACU will share research findings on cultural diversity and Australian churches based on National Church Life Surveys (www.ncls.org.au and 2016ncls.org.au).
There will also be time during the events to learn about other related research projects.
Details and online registrations can be found on the NCLS website.
For any other inquiries please contact the NCLS Research office by Email: This email address is being protected from spambots. You need JavaScript enabled to view it. or phone (02) 9701 4479.