Emergency prayer for the people of Tonga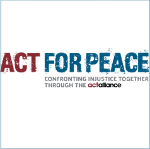 We invite you, as part of the Australian ecumenical community to pray for our Tongan brothers and sisters.
Earlier this week, Tropical Cyclone Gita devastated communities across Tonga. The category four cyclone brought destructive winds of over 233 kmph, ripped roofs off houses and caused widespread flooding. Tens of thousands of people have been forced to evacuate their homes and are now left without power or water. Many homes, buildings and churches have been severely damaged, including one church that was completely destroyed.
Our staff are working with their partner on the ground, the Tonga National Council of Churches, to provide immediate lifesaving assistance. Act for Peace's Disaster and Emergencies Program Coordinator, Yvette Crafti, is helping to coordinate the relief efforts and said the level of damage is extremely high.
"Gita is the strongest cyclone to hit Tonga in 60 years. It has flattened houses, torn down trees and has left widespread flooding and power outages in its wake. We are working around the clock to help reach people in urgent need."
"With a storm this big, communities that have been badly impacted need our support to recover and begin to rebuild their homes and livelihoods."
There is a lot of work to be done to help our neighbours in Tonga both in the coming days, and long term as they rebuild following this cyclone. We ask that you would join us in covering the people of Tonga in prayer.
Please feel free to share these prayer points with your congregation.
We pray for:
Our brothers and sisters in Tonga and those across the Pacific whose lives have been devastated by Cyclone Gita
The tens of thousands of people who have lost homes, livestock and crops. That they will find protection, and have access to clean water, food and shelter.
Act for Peace and the Tonga National Council of Churches, our local partner on the ground, as we provide emergency assistance to those in need.
Our Pacific neighbours as they begin the process of rebuilding their lives over the next few months.
All who have been affected. We ask that they know God's peace, love and hope as they grieve and start the process of rebuilding their lives.
Carry each other's burdens, and in this way you will fulfil the law of Christ. Galatians 6:2
If you would like to make a gift to support the relief efforts in Tonga, please go to our website