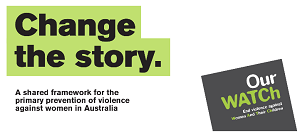 Change the Story 
Our Watch has launched the second edition of their evidence based framework, guiding a coordinated national approach to preventing violence against women.
Change the story outlines the essential actions needed to address the gendered drivers of violence, and shift the unequal distribution of power, resources and opportunities between men and women to stop violence against women before it starts.  
Evidence shows that we can stop violence against women before it starts, provided all parts of society play a role. We need to address the gendered drivers of violence at every level and continue to promote and embed gender equality everywhere we live, work, learn, socialise and play.  
Ongoing commitment is needed from all governments, workplaces, education facilities, sporting organisations, and the media to utilise the updated Change the story framework so that we can address the drivers of violence against women and put gender equality at the heart of their work. 
Both the Change the story framework and a 20-page summary are now available on the Our Watch website
A brief background
With the first edition of Change the story, Australia began developing the foundations for a world-leading approach to primary prevention. This second edition provides an updated, expanded, evidence-based framework for Australia to continue and strengthen this shared national approach.