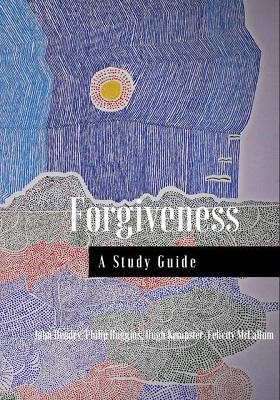 New Guide available now: Forgiveness
Forgiveness: A Study Guide is to be launched at St Peter's Eastern Hill by Archbishop Philip Freier on Sunday December 5 and at the Australian Centre for Christianity and Culture (ACC&C) in Canberra on December 7 2021.
The aim of these Studies is to help individuals and communities with healing and new beginnings. It covers all the crucial issues: 
Why forgive? What difference does it make?
Why is forgiveness sometimes difficult, including of ourselves?
What is our personal and global journey regarding "forgiveness"?
What light do we have for next steps and for the healing of what is now past?
Speaking ahead of the launch, Bishop Philip Huggins says, "The idea for this Guide evolved from meetings with wonderful people whose own stories are of forgiveness after poignant times of grief and loss, especially Leila and Danny Abdullah, founders of i4give (https://www.i4give.com).
"Whilst our Forgiveness Studies can be undertaken at any time, we especially hope they will complement the inspiration of i4giveWeek, 1-7 February 2022, and for many, Lent of 2022 may be an ideal time for this, beginning with Ash Wednesday on 2 March." 
Bishop Philip invited three experts to join him in preparing these studies: Felicity McCallum, John Hendry and Fr. Hugh Kempster. 
"We are all disciples of Jesus. We wanted to help people think afresh about the meaning of Jesus' forgiveness teachings in the Gospels; in the Lord's Prayer and from the Cross – 'Father forgive them for they do not know what they are doing'. (Luke 23:34).", Bishop Phillip explained. 
"After 2000 or so years of resurrection faith we should know what we are doing! But there is always more to learn. Our work together in composing Forgiveness: A Study Guide was an inner-searching process and personally transformative and we hope this will be so for others!" 
There are other collaborators whose soulful dedication to forgiveness and reconciliation shine through Forgiveness: A Study Guide. "Inside our Guide you will find Glenn's description of his painting as well as his and our bio notes", shared Bishop Phillip.
The beautiful Cover was painted as a gift to this program from Revd. Canon Glenn Loughrey, Priest, Artist and Writer.  
"Clearly, we all pray that our Australia and the global family might be more loving, more understanding and more forgiving. For this to be so, we need to be focused, with clearer intention. A better understanding of forgiveness can only help", said Bishop Philip. 
Printed copies are $15 and are available from St Peter's Bookroom, 15 Gisborne St, East Melbourne VIC 3002: www.bookroom.stpeters.org.au  
An online version, with additional resources is on the website of the ACC&C: www.acc-c.org.au  
"In the love of God for all living beings, our journey is to help us all make better choices so we heal and do no harm", concluded Felicity, John, Fr. Hugh and Bishop Philip, ahead of the Launch.  
Media Contact: Bishop Philip Huggins:
(61 ) 418799515