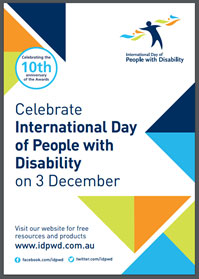 Community Organisation and Communications Kit
3 December is recognised as the International Day of People with Disability (IDPwD). "Achieving 17 Goals for the Future We Want " is the theme for 2016.
You are invited to join in recognising and celebrating the wonderful contributions of people with disability by holding an event in your community.
To assist you a downloadable PDF Community and Organisation Support Kit for your organisation is available here. Inside this kit you'll find tips and tricks to help in the lead-up to the event, and lots of resources for promoting your event to make sure as many people as possible can celebrate with you.
Not able to host an event in person? Do not worry! The kit also includes sample social media shareables, templates for newsletters, as well as a suite of graphics for your organisation to show support.
For more information about IDPwD visit:
United Nations website
IDPwD Australian website