National Child Protection Week
4 – 10 September
In 2022, National Child Protection Week will continue to embrace the overarching message that 'Every child, in every community, needs a fair go'. In particular, this year we will be shining a light on children growing up safe and supported. Children and young people thrive when they grow up safe, connected and supported in their family, community and culture. They have the right to grow up in environments that support them according to their needs, now and into the future.…
2022 Theme: Every Child in Every Community Needs a Fair Go
Read more about this year's theme, here. 
Children's Activity Booklet
The Children's Activity Booklet is now available for download!
The aim of the booklet is to start conversations about how to build the safest communities possible for children as well as link families to resources and support services.
Download the booklet now to see the range of creative activities for children and young people. 
National Child Protection Week Webinars
Visit the National Child Protection Week Event page to find out more details
MONDAY 5 September 2022
National Child Protection Week Launch
Safe and Supported: How is Australia coming together at the national level to protect our children?
TUESDAY 6 September 2022
How deep connection to culture is keeping children safe and supported.
WEDNESDAY 7 September 2022
Supporting young parents with an out-of-home care experience
THURSDAY 8 September 2022
Are Aussie kids OK? Preview data from the Australian Child Maltreatment Study
FRIDAY 9 September 2022
Creating a 'one-stop shop' for the needs of families: Co-design, evaluation & sustaining change
Domestic Violence and Religion: Round Table Discussion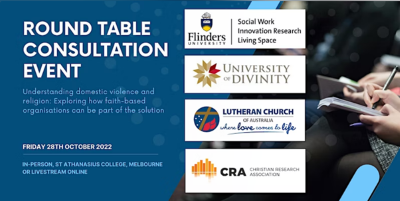 This round table event is a national gathering to share information about initiatives and research demonstrating how churches and faith communities in Australia are working to prevent and respond to domestic and family violence. This gathering will promote inter-faith awareness of how religious organisations and communities are raising awareness about domestic and family violence, and how they understand their role in responding and providing support to congregations and affected individuals – victim/survivors and perpetrators of violence.  
Where: In-person at St Athanasius College, 2nd Floor, Eporo Tower, 285 La Trobe Street, Melbourne or online via livestream
When: Friday 28 October, 9am-5pm (in-person registrations from 8.30am)
Cost: Free, catered event
Details: on the Flinders University website  
Where: In-person at St Athanasius College, 2nd Floor, Eporo Tower, 285 La Trobe Street, Melbourne or online via livestream
Duration: Full day, 9am – 5pm (catering provided)
Tickets: Free to attend – note registration is required for in-person or livestream event
• Register for the in-person event
• Register for the online live stream
Organiser: Social Work Innovation Research Living Space, Flinders University (This email address is being protected from spambots. You need JavaScript enabled to view it.)