A Climate Plea to Australia's Prime Minister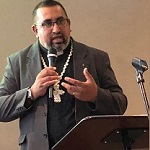 "...show moral courage and decency by putting the needs of innocent people over those of big business and vested interests" urges Rev James Bhagwan, General Secretary of the Pacific Conference of Churches writing in the Sydney Morning Herald.
A churchman of the Pacific's sinking nations, Rev Bhagwan made his plea to Australian Prime Minister, Scott Morrison shortly before the PM's arrival in Tuvalu for the Pacific Islands Forum Leaders' Meeting last week.
"Right now, Australia is doing far more than most to desecrate the precious gift that humanity has been given" says Rev Bagwan.
Rev Bagwan's article was published in The Sydney Morning Herald on 12 August 2019. Click the link below to read the article.
The Sydney Morning Herald - OPINION - A climate plea to Scott Morrison from a churchman of the Pacific's sinking nations
By James Bhagwan