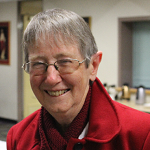 An invitation to join Catholic Social Services Victoria to celebrate their work and strengthen links between those who are active within the broad community of service. It will also be an occasion that will honour Sr Brigid Arthur csb (pictured) with Life Membership.
When: Friday 30 August, 6:30pm for 7:30pm
Where: Catholic Leadership Centre, East Melbourne.
Sr Brigid has worked tirelessly to support people seeking asylum and in the area of advocacy for a more just response by Australia. Her work with NCCA and ACRT on these areas over a number of years has been of great value. We are grateful for her wisdom and support and congratulate her on the well-deserved honour. She is a co-founder of the Brigidine Asylum Seekers Project.
The evening will also be an occasion for CSSV Executive Director, Denis Fitzgerald, to say farewell and thank you, before his departure from this role at the end of September.
Tickets are $85 per person. Book online here or contact Lucia Brick (9287 5566, This email address is being protected from spambots. You need JavaScript enabled to view it.) if price is an issue.