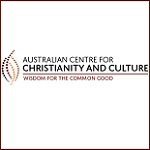 New quarterly publication ENGAGE
The Australian Centre for Christianity and Culture (ACC&C) has recently released their new quarterly publication titled ENGAGE.
We encourage you check out the new publication, read the news items and find out what events are coming to the ACC&C.
The NCCA Forum held in June 2019 at the ACC&C, features in an article on page 3, Walking in the Holy Spirit: Called to Transforming Discipleship By Emily Evans, Former Project Officer at NCCA .
You will also find an interesting article on page 4 by Bishop Philip Huggins, in his role as the Director Centre for Ecumenical Studies, on The Ecumenical Roundtable held at the ACC&C on 25 July2019.
The publication comes in an interactive PDF format replacing the former E-bulletin. On the Contents Page, buttons will change colour so you can click them to jump to the article. At the bottom of each page you can return to the Table of Contents by clicking that button.
There are other buttons throughout the document that are also clickable. These take you to websites or more in-depth articles.
Read the August 2019 Issue of ACC&C's ENGAGE Please note that it is recommended to use Adobe Reader or Adobe Acrobat to view the PDF.