Recent Meetings with Government
Bishop Philip Huggins attended the Prime Minister's roundtable meeting with faith representatives in Sydney.
Liz Stone and Bishop Huggins participated in the Child Safety Sector Leadership Group meeting in Canberra.
Consultation Meeting with Prime Minister
The Prime Minister Scott Morrison invited faith representatives to a meeting in Sydney on Monday 5 August to hear views on religious freedoms as the Government continues its process to prepare a Religious Discrimination Act.
NCCA President, Bishop Philip Huggins writes:
As you know, in this more settled period after the Federal Election, there are consultations taking place as regards this matter of freedom of religion in Australia.
A number of our Church leaders were at the PM's consultation along with representatives of other major faiths. The general view was that this is a matter to proceed with both carefully and patiently.
The PM stressed he hopes the resulting legislation will have bipartisan support and be a unifying, never a divisive matter in our Australia.
Accordingly, whenever a Draft is available there will be plenty of time for further consultation and comment.
As was agreed, legislation in the area of religious freedom needs a culture that receives it, accepts it.
I was encouraged by the PM's positive response when I shared the hope that we can cultivate a generous spirit - that Australia is a place where there is no anti-Semitism, no Muslim woman in hijab or Sikh in turban abused in the street; where people are free to establish their places of worship. An Australian culture, that is, which embodies Article 18 of the Declaration on Human Rights so that people feel and are free to practice their faith or not practice it, change to another faith, even change back!
Imagine what hope that would give the wider world, especially those in places where there is real persecution, forced conversions and marriages, much else.
Comment was made about how many people have come to Australia to be free of violations of their religious freedom. This fact conveys both our strengths and our responsibility.
It was good to hear a high vision of our Australian possibilities being articulated.
For myself, I think it would be wise for Article 18 to be on street signs, with pictures of endorsement by multi faith communities and leaders. It would be good if Article 18 was as evident as the signage of McDonalds and Apple!
An Australian culture which will receive an Act to prevent Religious Discrimination will be a moral culture - careful and accountable to other faiths for our own theology; attentive to how different freedoms intersect; reasonably robust so as to not give or take offence at every opportunity; practicing the 'golden rule'!
Our PM asked us to emphasise that the conversations continue, including when a draft is available.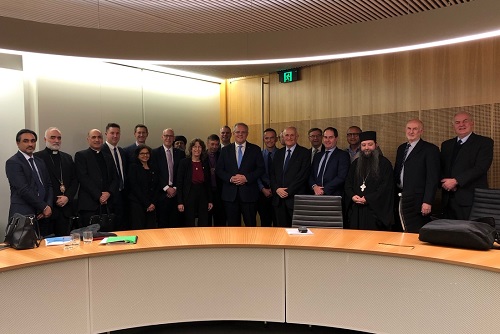 (Left) Faith representatives meet with Prime Minister Scott Morrison, 5 August 2019.