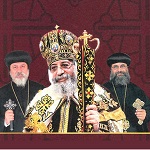 Coptic Orthodox Diocese of Sydney and Affiliated Regions
50th Anniversary Celebration
Our Coptic brothers and sisters celebrated their golden jubilee at a formal dinner on Sunday 4 August 2019. In attendance were Church leaders, NSW Premier, state officials and parliamentarians along with many of the faithful Coptic congregation.
The occasion was held to mark the fifty years of the Coptic Church in Australia which began in Jauary 1969. Congratulatory speeches were made by many dignitaries including; NSW Premier, The Hon Gladys Berejiklian, Mr Mohammed Khyrat, Egyptian Ambassador to Australia and HG Bishop Rabbat of the Melkite Catholic Church. All acknowledged the difficulties associated with relocating families and church, the Coptic community was praised for their determination to worship in their own familiar custom and to maintain their distinctive culture, faith and language.
A video message was also delivered from Egypt by Pope Tawadros II praising the Coptic community in Australia for their steadfast faithfulness to their faith. 
 
 
 

The Bishops shortly after the entrance procession

Above, NSW Premier Gladys Berejiklian speaking

 

Egytian Amabassodor to Australia, Mr Mohammed Khyrat 

 
Live entertainment during the evening was provided by combined Coptic schools' choir and Australian Tenor, Mark Vincent. A memorable night was had by all.  
 
 

Combined Coptic schools' choir

 

Mark Vincent 
Our prayers are with Bishop Daniel and the Coptic Orthodox Church of Australia, may their ministry continue to grow and enrich.