ARRCC organisers are excited to offer this rare opportunity for people of faith to be empowered to respond effectively to the climate crisis.
Register now!
Where: Australian Centre for Christianity and Culture, 15 Blackall St, Barton ACT
When: Friday 8 to Sunday 10 November 2019
Register here: https://www.arrcc.org.au/arrcc_national_conference
Why come along?
The hope is that you will draw strength from solidarity with like-minded others, and feel less isolated. It's not easy being so concerned about climate change when many in your own faith community are not especially switched on to the issues.
The second important reason to come along is to become more effective as a change-maker in your own area. Conference participants will share and learn with the help of inspirational campaigners, school climate strikers, faith leaders and experts in their fields. The aim is that you return to your own setting with more insight, skills and confidence to organise action at a local level.
Don't miss this unique opportunity
ARRCC normally concentrates on creating decentralised, local initiatives, webinars and workshops. This will be their first Conference in eleven years, and won't be repeated anytime soon.
Details and how to register
Registration fees are $120 concession, $220 full price, $260 passionate. To find out more and register, see the ARRCC website here: https://www.arrcc.org.au/arrcc_national_conference
Share the ARRCC Conferene Poster with your networks
Click here for the conference brochure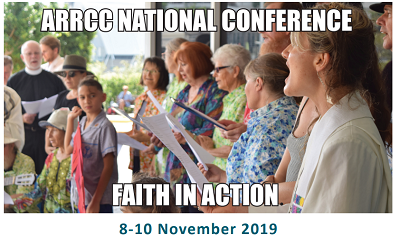 Find out more about ARRCC, visit their website