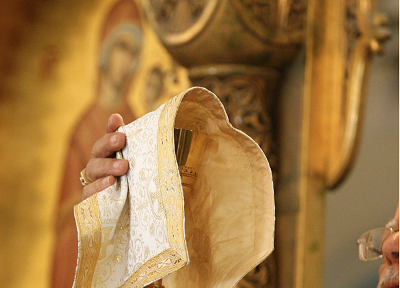 PHOTO: Archbishop Elias Chacour raising the chalice in Haifa Melkite Cathedral
"ABIDE IN ME AS I ABIDE IN YOU".          (John 15:1-8) 
This image (right) is of +Elias Chacour raising the chalice in Haifa Melkite Cathedral.
His bridge-building, peacemaking ministry has been and is very beautiful.
A Senior Staff member of one of our Schools asked me last week if I could help rekindle his connection with Australian people of faith.
In one of the interviews she sent me, + Elias speaks of his vocation.
He speaks about the many years of theological study prior to ordination.
But now, he says, it all comes down to two things. These two things accord with the essential words of 1 John: 4…" Beloved, since God loved us so much, we also ought to love one another. No one has ever seen God; if we love one another, God lives in us, and God's love is perfected in us."
I find this text very fitting for times like weddings and baptisms when there is already much love vivid in the faces of those gathered.
Such moments do not need to be over-complicated by complex  religious and liturgical language… Just delight in and trust the mystery:  …" if we love one another, God lives in us, and God's love is perfected in us."
The symmetry then draws us into the One who says: "Abide in me as I abide in you". (John 15:1-8.)
Our image is of +Elias doing just that as he celebrates Holy Communion.
+Elias bridge - building, over many years, includes wonderful work with young people through education - the Mar Elias Educational Institutions.
We each have a ministry of reconciliation and we can see the need for much bridge-building in our fractured world.
The essential teaching of these scriptures, embodied in the life of one like +Elias, speaks to our day:
Trust in the love of God.
Loving God ourselves, therefore try to do no harm.
Bishop Philip Huggins
NCCA President.