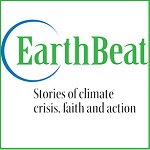 Are you left with free time and tired of watching the news?
EarthBeat have released a list of watchable TV and streaming ideas to assist us with viewing choices during this time of Coronavirus lock-downs and movement restrictions. 
EarthBeat has pointed out the "there's no shortage of environmental programming to check out and catch up on, on major streaming platforms". 
So here are a few of their suggestions: 
Netflix
"Our Planet" series (2019) narrated by Sir David Attenborough. A visually stunning look at the earth's ecosystems and biodiversity, while addressing how climate change, water shortages and ocean dumping threaten habitats and their inhabitants. 
Two specials from the PBS Nova series look at the science of climate change ("Decoding the Weather Machine," 2018) and the Flint water crisis ("Poisoned Water," 2017).
"Bill Nye Saves the World" series explores climate change and water shortages. (And there's even one on how vaccines work.)
A few other Netflix docs:
"Chasing Coral" (2017), another visually impressive film, this one focused on the disappearance of the world's coral reefs as a result of warming ocean waters.
"A Plastic Ocean" (2016), explores the environmental impacts of plastic waste in the world's oceans.
"Cowspiracy" (2014), examines the impact of large-scale factory farms and animal agriculture on deforestation, resource depletion and greenhouse gas emissions. [Read here for more.]
"Catching the Sun" (2015), looks at the economics of the global solar energy industry.
Amazon Prime
"The National Parks – America's Best Idea" (2009) by documentarian Ken Burns' 12-hour series
"The Dust Bowl" Burns' 2012 series, at a more digestible three episodes.
Amazon also hosts two major climate documentaries,
the 2015 film "This Changes Everything" based on the Naomi Klein book of the same name, and the
2014 Emmy-winning, nine-episode series "Years of Living Dangerously."
Amazon also houses a number of PBS Frontline environmental investigations, including "Climate of Doubt" (2012), "War on the EPA" (2018), "Blackout in Puerto Rico" (2018), and "Inside Japan's Nuclear Meltdown" (2012). 
Disney Plus
 National Geographic catalogue, including:
"America's National Parks" (2015), its own tour of the national parks;
"One Strange Rock" (2017), the Will Smith-narrated exploration of our planet;
"Paris to Pittsburgh" (2018), a look at impacts of climate change and people responding to it following President Trump's pledge to withdraw the U.S. from the Paris Agreement.
For a family movie night:
re-visit the post-human Earth overrun with trash and one robot left to clean it all in Pixar's 2008 animated film "Wall-E." 
Look out for these on other streaming channels:
2004's "The Day After Tomorrow" climate thriller;
the 2019 climate film "Ice of Fire" (narrated and produced by Leonardo Dicaprio);
Spike Lee's 2006 "When the Levees Broke"  examination of post-Hurricane Katrina New Orleans; 
"Mann v. Ford" (2011), a look back at a lawsuit brought by the Ramapo Mountain Indians against the Ford Motor Company over toxic waste dumping on their land;
Or why not revisit "Game of Thrones" but this time watch it as the allegory for climate change that it really is.
For some lighter options from a number of eco-episodes from some favourite sitcoms: 
the "Greenzo" episode on "30 Rock" and
the "Community" episode on "Environmental Science" where the Greendale gang celebrate "Green Week."
the animated version of the classic "Dr. Seuss' The Lorax" (you will have to buy or rent the 2012 feature-length film)
If you have a subscription that allows access to other channels, then you may like to watch:
Popular documentaries:
"Planet Earth,"
"An Inconvenient Truth",
"Gasland," 
"Chasing Ice" 
Films:
"Promised Land,"
"Dark Water,"
"Avatar"
"Erin Brockovich."  
The list above was published in the USA and some programs may not be streamed here in Australia.
Have you missed one of your favourites? Let know by leaving us a message on Twitter or Facebook