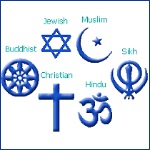 Faith Leaders call for coal mine to be abandoned
Over 50 faith leaders have signed a joint letter asking Gautam Adani to abandon the proposed coal mine in North Queensland. This initiative was organised by Australian Religious Response to Climate Change(ARRCC).
The letter, which included the signature of Bishop Phillip Huggins, president of the National Council of Churches in Australia, was handed to a representative of Mr Adani outside his organisation's headquarters in Townsville on Wednesday 18 April 2018.
If you would like to find more please read the article published in Sight Magazine.