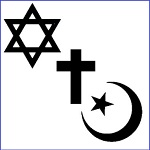 Ramallah and Jerusalem Conference, April 2018
At the invitation of Ambassador Izzat Abdulhadi of the General Delegation of Palestine in Australia, New Zealand and the Pacific, the President of National Council of Churches in Australia, Bishop Philip Huggins was to speak at the 9th Jerusalem International Conference in Ramallah, Palestine on 10 April 2018. Due to family circumstances Bishop Huggins is unable to attend and his talk was presented by Dr. Peter Slezak, Associate Professor in Philosophy, University of NSW.
Bishop Huggins' presentation "A Perspective on Peace-making from a disciple of Jesus: the necessity of ending reciprocal violence for the sake of God's children" can be downloaded here.
Role of Religions to Promote Dialogue
The Open Letter of International Council of Christians and Jews (ICCJ) to national member organizations, entitled "A Process of Mutual Empowerment" dated 20 September 2016, can be downloaded here.