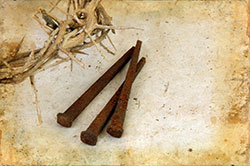 Mary Magdalene and the other Mary went to see the tomb. … they ran to tell his disciples. Suddenly Jesus met them and said, 'Greetings!'
As we celebrate the Resurrection of the Lord, and hear and receive the accounts of disciples encountering the Risen Lord, may we rejoice that the Lord is truly risen. May we be assured that he has gone before us. Like Mary Magdalene may we with eager hearts tell our sisters and brothers what we have witnessed and may we , like them, meet Jesus on the way.
The National Council of Churches in Australia wishes all a healthy and holy Easter.
Sr Elizabeth Delaney, General Secretary
National Council of Churches in Australia
(Note: This year both the Western and Orthodox Churches will celebrate Easter on the same day, Sunday 16 April.)
Read the Australian Church leaders' Easter Messages here in PDF file.