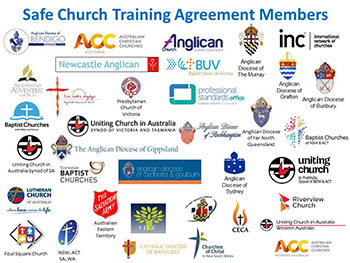 The year has started and many members of the NCCA – Safe Church Training Agreement (SCTA) have Awareness workshops running across the country. This year we are rolling out a SCTA Awareness Workbook to assist our members in training participants in creating a safe place for all people, in particular children, young people and those who are vulnerable. The feedback that we are receiving from across Australia shows that interest and participation levels are high, with some workshops being undertaken on days when temperatures exceeded 39 degrees.
"After attending a SCTA workshop, I feel like I am equipped to respond to incidents, but more importantly I can help my church be a safe place for children and those who are vulnerable."
(Grant L, Victorian workshop attendee)
Currently there are 34 members of the SCTA, representing 14 different church traditions: Anglican, Australian Christian Churches, Baptist, Catholic, Christian Evangelical Church Australia, Churches of Christ, EV Church, 4 Square, International Network of Churches, Lutheran, Presbyterian, Seventh Day Adventist, Salvation Army and Uniting.
Our SCTA members are:
Anglican Diocese of Bathurst
Anglican Diocese of Bendigo
Anglican Diocese of Brisbane/Rockhampton/Far NQ/NT
Anglican Diocese of Canberra and Goulburn
Anglican Diocese of Gippsland
Anglican Diocese of Grafton
Anglican Diocese of the Murray
Anglican Diocese of Newcastle
Anglican Diocese of Riverina
Anglican Diocese of Sydney
Anglican WA Combined Diocese - Perth/Bunbury/NW
Australian Christian Churches VIC
Australian Christian Churches WA
Baptist Churches NSW & ACT
Tasmanian Baptist Churches
Baptist Union of Victoria
Baptist Churches Western Australia
Boys Brigade Australia
Campus Crusade for Christ
Catholic Diocese of Bathurst
Catholic Professional Standards Office of Queensland
Christ Evangelical Church Australia
Churches of Christ NSW
EV Church
4 Square
International Network of Churches Australia
Lutheran Australia
Presbyterian Church Australia NSW, SA, NT, VIC, WA
Riverview Church
Safe Ministry Resources PTY LTD
Salvation Army Australian Eastern Territory
Seventh Day Adventist Church Australia
Uniting Church NSW & ACT
Uniting Church SA
Uniting Church Victoria & Tasmania
Uniting Church WA
Is your church on this list or doing any training of clergy, ministers and volunteers in the area of Safe Church and the prevention of abuse?
SCTA Members receive training resources that can be used in their churches and assist in training those involved in ministry to children, young people and the vulnerable. Members also have access to presenter training events, sample documents of policies, procedures and guides, networking opportunities with other SCTA Members, and opportunities to engage with government regarding issues relating to the protection of children, young people and vulnerable adults.
Can I encourage you to ask these questions of your church leadership, and if you would like to know more details about how the NCCA – Safe Church Program can help you and your church in the creation and development of a safe church please contact us at This email address is being protected from spambots. You need JavaScript enabled to view it. or call Cameron Haig, National Coordinator of NCCA Safe Church Program (03) 9650 6811.
Safe Church Tip: Policies and Procedures
When you are implementing Policies and Procedures within your church it is important to remember that it must steer away from legal jargon in order for it to be clear and accessible to all people using plain language.
Policies and Procedures is to be an active document, revised on an annual basis (and as often as legislation changes). It cannot simply live in a folder and be accessed once an incident occurs.
Ethics Journalist Randall Smith puts it this way "The best policy is useless if it sits on a shelf. It's useless if there's not regular training. It's useless if not regularly updated to keep up with the changing times, latest challenges and technology. And, finally, it's useless if there's no enforcement".