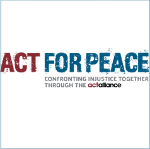 2020 Advent Resource 
Share God's love through the Christmas Bowl 
The Christmas Bowl is the Christmas appeal of Act for Peace, the international aid agency of the NCCA.
The 2020 Advent resource contains Bible readings from the Lectionary, Prayer points and information about each of the areas that Act for Peace are working in and the projects that will be funded by your Christmas Bowl donations.
pdf Download the 2020 Advent Study Guide (3.01 MB)  PDF 
Find out more about the Christmas Bowl 
Take a look at the resources available for the 2020 Christmas Bowl.
 

Week one: Keeping hope alive for girls in Afghanistan 

 

Week two: Helping Rohingya refugee shape peaceful futures

 
 

 Week three: Helping refugees rebuild with joy in Sri Lanka

 

 

 

 

 

 

Week four: Sharing love with the most vulnerable in Jordan

 
 
Christmas Day: Lighting the way for shattered families in Zimbabwe
 
 
 
 

 

 

Above: Christmas Bowl posters from past years.