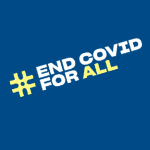 A step forward to #EndCOVIDForAll
The Government has announced an additional $500m to assist in the rollout of a COVID-19 vaccine to the Pacific and South East Asia. 
The $500 million will be rolled out over three years to ensure full immunisation coverage for the Pacific, and will make a significant contribution toward Southeast Asia.
This is wonderful news that is worth celebrating!
Help spread the word and show the government the overwhelming public support for this, you can tweet Foreign Minister Marise Payne, Minister for International Development Alex Hawke and Health Minister Greg Hunt by clicking the button below.
Tweet thank you to our leaders   
Share the Micah Australia Video on Facebook 
Micah Australia Executive Director, Tim Costello was in the media welcoming this announcement.
"We are so thankful for each of you who have supported the #EndCOVIDForAll campaign over the past few months. Together, we have been a part of a significant campaign which has contributed to this incredible announcement that will greatly assist our closest neighbours in the fight against COVID-19. We are so grateful for your support, your action and your prayers. It is making a lasting difference in the lives of those who need it most. God bless." Tim, Matt, Beck & Sophie [The Micah team] Micah Australia http://www.micahaustralia.org/