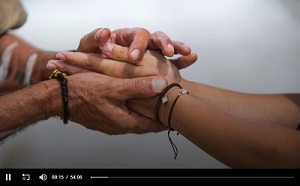 Indigenous spirituality in a multicultural Australia
ABC Radio National's program God Forbid explores Indigenous Australian theology in an episode which aired Sunday 31 May 2020.
James Carleton speaks with Aunty Reverend Patricia Courtenay and Naomi Wolfe. 
Listen to the ABC recording of Indigenous spirituality in a multicultural Australia
Duration: 54min 6sec
Broadcast: Sun 31 May 2020, 6:05am
Aunty Reverend Patricia Courtenay belongs to the Gurang Gurang and Birri people. She is an Anglican priest and faculty member of the theological organisation NAIITS: An Indigenous Learning Community. She is also working on her PhD thesis, 'Aboriginal Spirituality in a Christian Context.'
Naomi Wolfe is a Palawa woman from Tasmania, a board member and Australia's Academic Dean at NAIITS. She also lectures in world religions at the Australian Catholic University and the University of Divinity.