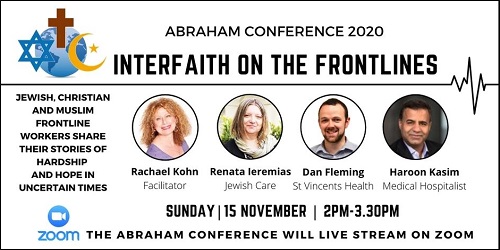 Interfaith on the Frontlines
Sunday 15 November via Zoom
This event will be in the style of TEDx Talks where Jewish, Christian and Muslim frontline workers will share their stories of hardship and hope in uncertain times.
The Abraham Conference plays an important role in bringing Jews, Christians and Muslims together to discuss contemporary issues of concern for the members of the three religions and for the wider society.
Speakers: 
Ranata Ieremias, manages family support, mental health and youth services at Jewish Care -Jewish speaker.
Dr Dan Fleming, is Group Manager - Ethics and Formation for St Vincent's Health Australia -Christian speaker
Haroon Kasim, is a medical hospitalist who provides effective and coordinated care across specialist disciplines for patients with chronic and complex disease - Muslim speaker.
The MC for 2020 is Rachael Kohn, renowned author, broadcaster, producer, and former presenter of ABC Radio National's program Religion & Spirituality.
Date: Sunday 15 November 2020
Time: 2:00 pm – 3:30 pm AEDT 
Online: Event is free on Zoom  - details will be available in confirmation email.
Registration: Tickets available on Humanitix 
Please share this event with your family, friends and colleagues and invite them to be part of this important interfaith conversation. 
Conference partners: 
Affinity Intercultural Foundation; the Columban Centre for Christian-Muslim Relations; the NSW Jewish Board of Deputies; the Uniting Church in Australia, Synod of NSW & ACT; AMUST; the Diocese of Parramatta; the NSW Ecumenical Council; the Australian Egyptian Forum Council; and the Indian Crescent Society of Australia.