Message for the Celebration of 53rd World Day of Peace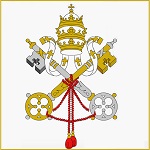 Pope Francis delivered a Message of Peace on the first of January 2020 - Peace as a Journey of Hope: Dialogue, Reconciliation and Ecological Conversion.
We share the fourth section on ecological conversion with you below.
Peace, a journey of ecological conversion
"If a mistaken understanding of our own principles has at times led us to justify mistreating nature, to exercise tyranny over creation, to engage in war, injustice and acts of violence, we believers should acknowledge that by so doing we were not faithful to the treasures of wisdom which we have been called to protect and preserve".[8]
Faced with the consequences of our hostility towards others, our lack of respect for our common home or our abusive exploitation of natural resources – seen only as a source of immediate profit, regardless of local communities, the common good and nature itself – we are in need of an ecological conversion. The recent Synod on the Pan-Amazon Region moves us to make a pressing renewed call for a peaceful relationship between communities and the land, between present and past, between experience and hope.
This journey of reconciliation also calls for listening and contemplation of the world that God has given us as a gift to make our common home. Indeed, natural resources, the many forms of life and the earth itself have been entrusted to us "to till and keep" (Gen 1:15), also for future generations, through the responsible and active participation of everyone. We need to change the way we think and see things, and to become more open to encountering others and accepting the gift of creation, which reflects the beauty and wisdom of its Creator.
All this gives us deeper motivation and a new way to dwell in our common home, to accept our differences, to respect and celebrate the life that we have received and share, and to seek living conditions and models of society that favour the continued flourishing of life and the development of the common good of the entire human family.
The ecological conversion for which we are appealing will lead us to a new way of looking at life, as we consider the generosity of the Creator who has given us the earth and called us to a share it in joy and moderation. This conversion must be understood in an integral way, as a transformation of how we relate to our sisters and brothers, to other living beings, to creation in all its rich variety and to the Creator who is the origin and source of all life. For Christians, it requires that "the effects of their encounter with Jesus Christ become evident in their relationship with the world around them".[9]
Read the full Peace as a Journey of Hope message here