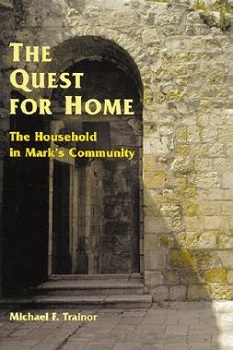 Gospel of Mark, The Quest for Home: The Household in Mark's Gospel
When: Wednesday 14 October 2020 7.00 - 9.00 pm (ACST)
Where: Online or in person, Blackwood Church of Christ, 367 Shepherds Hill Road, Blackwood SA 
RSVP: here 
Churches Together in Local Ecumenism invites you to  an exploration and conversation as we enter into the Lectionary year of Mark (Year B) with Rev Dr Michael Trainor.
In this changing time, community leaders continue in their roles in this new way of leading church, sharing in theology and teaching the Gospel truths. 
As Advent approaches, and we look to the Lectionary Year B Gospel of Mark. In our preparation on the coming year, and reflecting on the year that has been, the Gospel of Mark takes us back to the very centre of being a Christian community – seeking belonging, family, and home.
In The Quest for Home, Michael F. Trainor unfolds how one Christian community addressed the desire for home. He offers a way of reading Mark's Gospel from the perspective of house and household. This perspective provides both the architecture and theological context for a fresh reading of the Gospel. The wisdom gleaned from Mark's Gospel community encourages us in our struggle to develop authentic Christian communities today. 
This may also be helpful for those planning Youth and Children's Ministry for the coming year. 
It is available face to face and online streaming (Youtube). 
For more details:
Please distribute this throughout your church communities, particularly for ministry agents (priests, pastors and ministers), and lay preachers. 
CONTACT:
Rev Anne Hewitt, Ecumenical Facilitator & Executive Director OR  Emma Stephenson, Office Manager/Personal Assistant 
South Australian Council of Churches | 1/76-80 Sturt St Adelaide SA | Mob: 0475 016 789 | This email address is being protected from spambots. You need JavaScript enabled to view it.