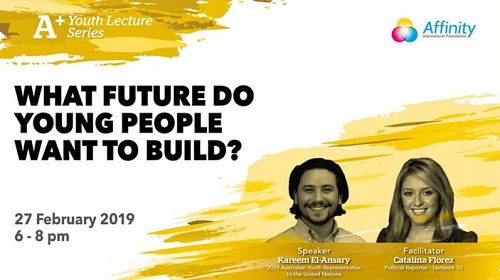 Affinity Intercultural Foundation invites you to attend an A+ Youth Lecture with Kareem El-Ansary
"What Future Do Young People Want To Build?"
When: Wednesday, 27 February 2019, 6:00 - 8:00 pm
Where: Affinity Intercultural Foundation, 51-57 Pitt Street Sydney
Speaker: Kareem El-Ansary, 2019 Australian Youth Representative to the United Nations
Facilitator: Catalina Florez, Political Reporter at Network 10
Registration: Online registration required - https://www.eventbrite.com.au/e/what-future-do-young-people-want-to-build-tickets-54951765209
Please call 02 8065 2502 if you have any questions.
This event is free and open to the public. Due to limited space, it has been requested that everyone registers via the link above.
The A+ Youth Lecture Series aims to tackle issues that are important to young people. Each session features an inspiring young speaker who will speak on issues that are important to them.
Affinity Intercultural Foundation's mission is to create and sustain enduring relationships with people through intercultural and interfaith dialogue.
Please feel free to share these events in your networks.