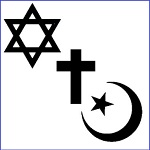 Abrahamic youth light the way for interfaith dialogue.
On 16 March 2018, students from the three Abrahamic faiths met in Sydney at the Great Synagogue. They shared thoughts and ideas, and also gained an insight into the Jewish faith.
A group of Muslim Indonesian students came to Sydney as part of their nation's delegation for the ASEAN conference. While here they were privileged to have an "Abrahamic Youth Exchange" with Jewish and Christian youth at the Great Synagogue of Sydney.
The Christian student representatives at this visit were Clara Chong, Stella Hendrawan and Ryan Epondulan, pictured below at the Great Synagogue with their new Jewish and Muslim acquaintances. The meeting provided insights into the Jewish faith and the importance of fostering interfaith relations in Australia and beyond. In addition, the encounter served as a reminder of the need to respectfully dialogue with people of different faiths, particularly in a world that is multicultural and multi-religious.