October is National Mental Health Month    
#YouthMentalHealthMatters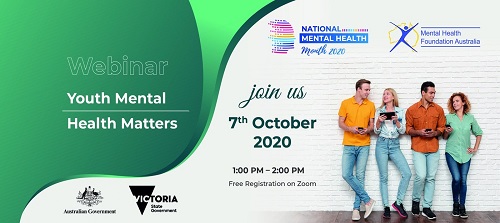 The Mental Health Foundation Australia invites you to the October Educational Webinar "Youth Mental Health Matters".
With rising rates of mental health issues in young Australians, it's more than important to have a discussion about Youth Mental Health.  
When: 7th October 2020 1:00 PM AEST 
Free Registration: online at  https://www.mhfa.org.au/CMS/YouthMentalHealthMatters-Webinar 
Note: All attendees will get a Certificate of Participation and free webinar resources. 

Emeritus Prof. Bruce Tonge will be presenting a 30-minute webinar with 15 minutes of Q & A sharing his insights about Youth Mental Health. 
 Please forward to a friend or colleague that you think will benefit from this webinar! 
Carers Mental Health Forum
Are you caring for someone with a mental illness? 
Join this forum to discuss Carers Mental Health. 
Why Carers Mental Health?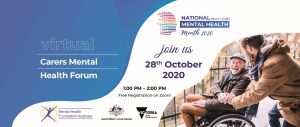 Caring for someone with a mental illness can be challenging, exhausting and confusing at times. There is considerable evidence that carers suffer adverse physical and mental health. It is important that we recognise this and provide them with relevant support, information and advice so that they know how to maintain their own health and well being.
The aim of the forum will be to recognise and acknowledge the important role carers play in the mental health system and also to discuss the status of support available to them.
When: October 28, 2020, 1:00 pm - 2:00 pm AEST
Where: Virtual on Zoom  
Register:  Online at https://events.humanitix.com/carers-mental-health-forum  
Free Online Peer Support Groups
All support groups until further notice will be via our online platform. Please register for the support group you wish to attend. Once you register, closer to the support group date, your facilitator will contact you with the link to join the meeting. If you have any questions or concerns, please contact, This email address is being protected from spambots. You need JavaScript enabled to view it.; 1300 643 287 
Mental Health Support Groups focus on individuals' strengths, not weaknesses and works towards the individual's wellbeing and recovery. 
For more information please see the Mental Health Foundation Website.
National Mental Health Month 
October 2020
National Mental Health Month is an initiative of the Mental Health Foundation Australia (MHFA) to advocate for and raise awareness of Australian mental health. It is an important time where the Australian community comes together to raise awareness that #MentalHealthMatters.
More information, activities, Forums and Webinars can be found at:
State and Territory Mental Health Weeks 
Each state and territory has set different dates to promote mental health awareness. To discover the dates and activities for your region, please see the following: